Lab 2: Introduction to Linear Regression
from

 

IPython.core.display

 

import

 

HTML

,

 

Markdown

,

 

display





import

 

numpy.random

 

as

 

npr




import

 

numpy

 

as

 

np




import

 

pandas

 

as

 

pd




import

 

seaborn

 

as

 

sns




import

 

matplotlib.pyplot

 

as

 

plt




import

 

scipy.stats

 

as

 

stats




import

 

statsmodels.formula.api

 

as

 

smf





import

 

ipywidgets

 

as

 

widgets



Lab 2: Introduction to Linear Regression#
Authored by Todd Gureckis
Aspects borrowed from General Assembly's Data Science course which claims to have adapted materials from Chapter 3 of An Introduction to Statistical Learning
You have passed the first part of the class learning the basics of Python and Jupyter with flying colors. Now you are ready to learn some of the mechanics of running a regression analysis. In the first part of the lab we'll just cover the details on how to run regressions in Python and some of the conceptual issue involved in the interpretation and fitting of a regression analysis. Then in the subsequent sections of the lab you will put this knowledge to work on a variety of interesting types of data.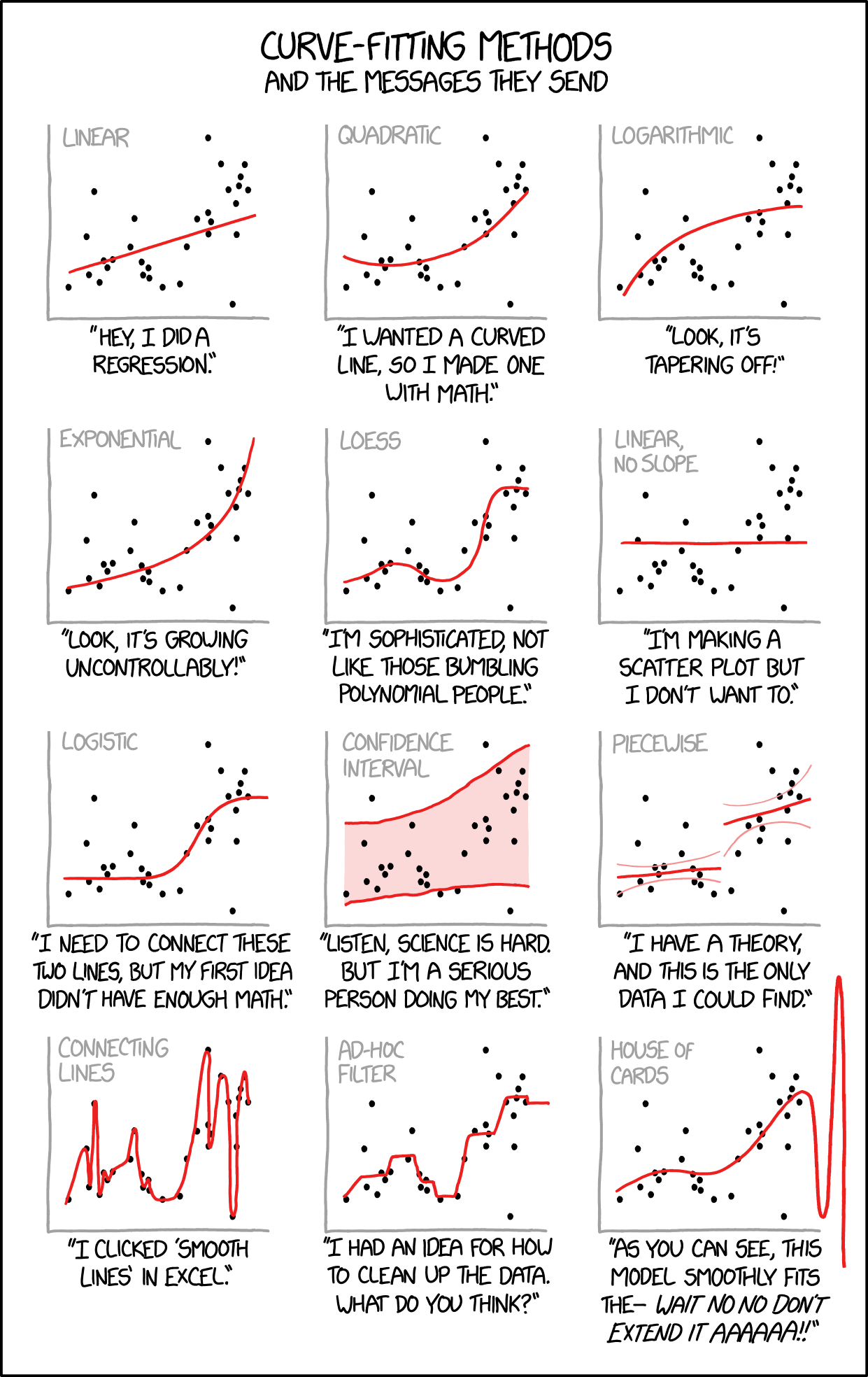 Ok, why are we basing our first lab around the concept of linear regression? Well it turns out regression (and correlation) are two of the workhorses of a cognitive scientist's toolkit. Linear regression models are highly interpretable, are used in many places in cognitive science, are fast and simply to perform, and expose some of the basic issues in modeling data. If there is one tool I use over and over in my work it is linear regression of some type!
Some example uses:
Often linear regression is used to "control" for nusiance variables in the study that might be confounded. For example by fitting a linear multiple regression model you can remove the variance in our data attributable to known sources and then model the residuals (more on this later).

The standard analysis techniques for fMRI are based on the General Linear Model which is a kind of generalization of multiple linear regression. Thus you are getting some of the basics for fMRI analysis.

Regression is often used to measure latent cognitive variables. For instance one might be interested in how reaction time changes as a function of task difficulty (e.g., number of distractors present in a task). Here linear regression is nice because the slope of the regression provides an interprable number which explains how reaction time changes as a function of the task.

If you were interested in the effect of age on cognitive performance in some task, a linear regression might help you characterize that pattern (although you'd want to check that the linear assumption is valid… more on that later).
Trust me, it is everwhere!
Here's a weird thing you might not know… There is a long running joke/meme about companies that claim to use "machine learning" to analyze data to make "business insights" actually use linear regression (well a special type called logistic regression). The issue is that complex linear models, particularly multiple linear regression with many input predictors, can mimic a lot of the power of things like neural networks while being more stable, computationally tractable, etc… So, even if a machine learning company doesn't use linear regression in their final product, often you have to show that your model does better than linear regression to be useful. Thus, linear regression is like the default modeling approach that is often hard to beat!
So you are going to learn some basic machine learning in this lab! Seriously! For simplicity we are going to use the statsmodels python package because it has a lot of nice outputs which are helpful for interpreting regressions. However, you could do almost all of the same stuff using the scikit-learn package which is a more general package for machine learning than can perform various types of sophisticated regression, classification, clustering, and dimensionality reduction steps.